Safety Solutions for America's Roadways
American Roadway Logistics, Inc., provides turn-key maintenance of traffic and pavement markings services for public and private projects throughout Ohio.
Partnership – We partner with you – the contractor – to provide seamless plan execution, while strictly adhering to OMUTCD specifications.
Flexibility – Navigating site variables and implementing plan changes is our specialty.
Turn-Key Operation – We provide 24/7 work zone set-up, allowing your crew to begin work on time in a safe, compliant zone.
Since 2006, we have provided contractors with the highest standard of MOT service. We are a certified DBE contractor and pre-qualified by the Ohio Department of Transportation for multiple work types.
I-480, Valley View Bridge
American Roadway Logistics has had the great honor of working with Walsh Construction to provide the maintenance of traffic and pavement markings for the I-480 Valley View Bridge Rehabilitation project in Independence, OH. This has been the largest project that ARL has been involved with and has offered our staff the experience of providing service to a complex work zone with multiple, time-sensitive phase switches.
The $227,000,000 project consists of building one new bridge span and the complete deck replacement of the two original bridges.

The Valley View Bridge is 212 Ft high and 4150 Ft long and carries approximately 180,000 vehicles per day.

The project began in 2017 and is expected to be completed in the Fall of 2023. Upon completion, the bridge will have 6 lanes in each direction with express lanes in the middle.
Watch our paint truck during an application.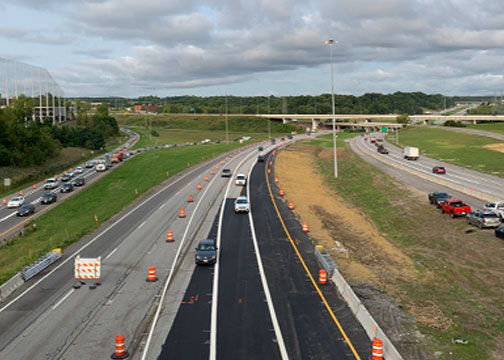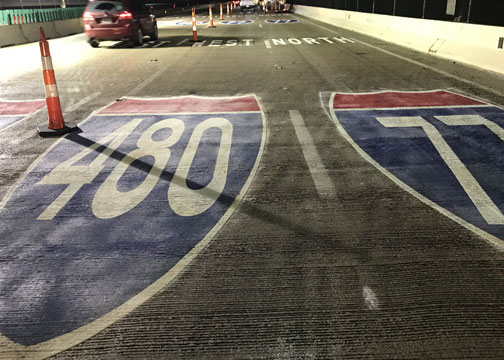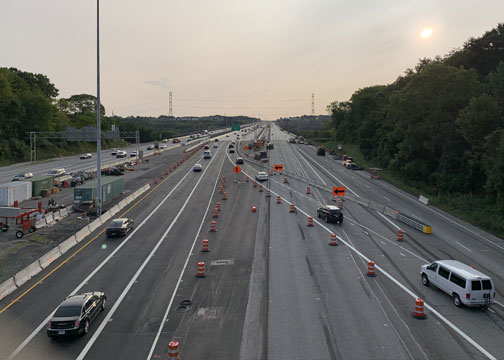 ARL was awarded the I-480 Bridge project in 2017. We were very excited to tackle the dimensions of this project, and felt confident that this was a natural progression of where we wanted be in our industry. Because of this contract, we have been able to utilize all of our capabilities and it has shown us where we can make enhancements as well as grow our business.
– Heidi Claxton,
President
We Look Forward to Working with You on Your Next Project.
Contact us via our online form, or give us a call